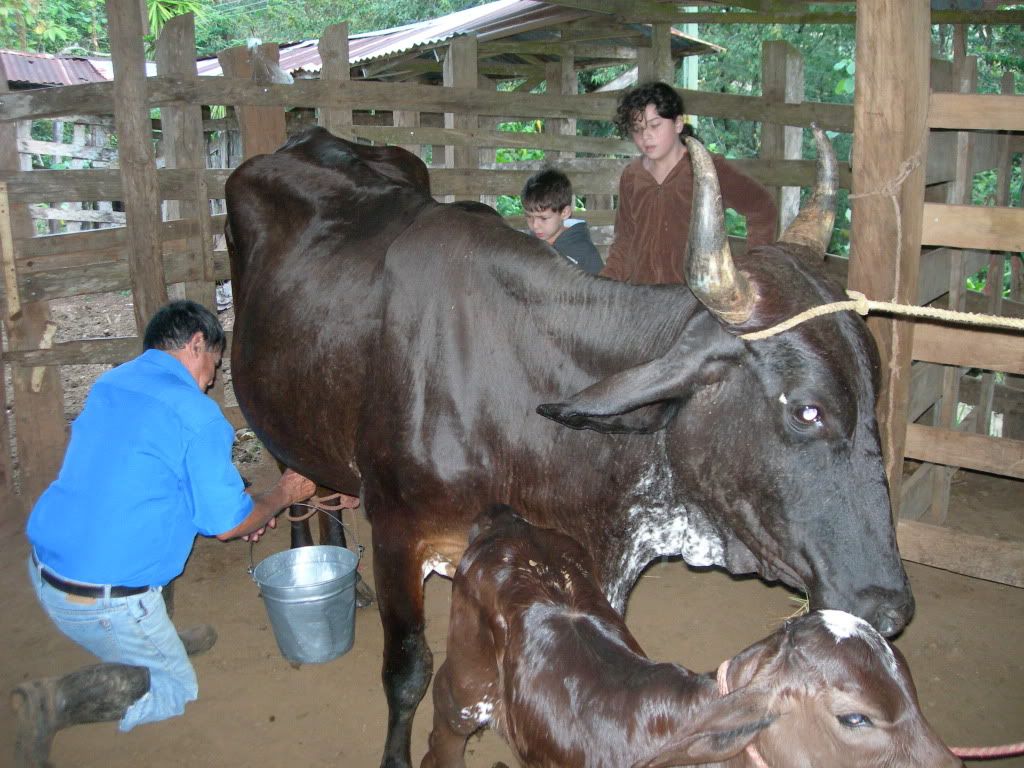 Guillermo4
The pictures of milk in our minds is of goodness and health. It makes us think of sitting in front of the fire with Santa Claus and eating cookies. We remember all the "Got Milk" commercials and we get so excited. Our moms told us from the time we were small, to drink our milk so we can grow big and strong. But wait, is mom in good health or not?
So the true picture is that many of our relatives are sick with cancer, diabetes and strokes.
Milk is not a healthy food, but a toxic one and one that causes many humans to fall off the train of health. It is not a fountain of youth drink, but just the opposite. It has been associated with cramps, diarrhea, colic, allergies and auto immune diseases in children. So does milk do your body good?
Is milk for your child? Ask the famed baby doctor, Benjamin Spock. who spoke out against feeding milk to children. He said it caused anemia, allergies, and diabetes. In the long run it will cause obesity and heart disease. Here is a direct quote of his:
"Dairy products contribute to a surprising number of health problems. They can impair a child's ability to absorb iron and in very small children can even cause subtle blood loss from the digestive tract. Combined with the fact that milk has virtually no iron of its own, the result is an increased risk of iron deficiency." Dr. Benjamin Spock
Cow's milk is designed for baby cows, not children. Baby animals are weaned off of milk when they reach 3 times it's weight. All animals are weaned off the mothers milk and never go back. Humans are the only ones who continue to drink milk. The milk that is closest to breast milk is goat's milk. So if a person must continue to drink, it should be with the milk of goat's.
Cow's milk has a primary protein called casein. Casein has 4 times the protein as human breast milk. Casein also have 6-7 times in minerals,but deficient in fatty acids. Human milk has 8 times more fatty acids which are essential so how can the two be compared. Cow's milk is for baby cows. The only beneficial milk that has been proven is goat's milk or camel's milk. Camel's milk is extremely expensive though.
Dr. Neil Barnard of The Physicians Committee on Responsible Medicine, cautions parents from giving pasteurized homogenized cow's milk to children. He states as Dr. Spock, that it causes juvenile diabetes, allergies and mucus conditions. Many cultures are becoming more lactose intolerant and losing the digestive enzyme to digest milk with.
People in Asia, Africa, Malay, Native America and the Philippines are more than likely, lactose intolerant and frequently have stomach distress.
Reasons why Milk is bad for You:
- Your bones don't stay healthy because of milk. Dairy increases the risk of fractures and Osteoporosis

- Milk is not the best source of calcium. People can get calcium from spinach, tahini, kale and all green leafy veggies except iceberg lettuce.

- Milk causes acne

- Milk is the leading cause of cancer, diabetes and stroke

- Milk is also linked to heart problems because of the saturated fat in milk.

- Diets without milk or dairy in them are everywhere. So maybe they know more than us. Go off of dairy for a week and see how you feel.
There is new evidence that milk drinking also causes Multiple Sclerosis. It seems that milk drinking causes so many diseases and problems that there must be something that mothers everywhere should be doing. Stamp out milk and put down that bottle, go for the alternative and be smart.
Get rid of that bottle of milk and opt for rice or almond milk instead. Switch to soy cheese, and dairy free frozen treats. There is nothing more delicious than almond milk. Almond milk is so easy to make. Many of the non-dairy alternatives are available at supermarkets or heath food stores.
Recipes for Almond Milk:
http://www.recipezaar.com/reci pes.php?q[]=almond+milk&q[ ]=&ls=re&Searchr=
Recipes for Rice Milk:
http://www.recipezaar.com/reci pes.php?s_type=%2Frecipes.php& amp;q=%22rice+milk%22&Sear ch=Search&Searcht=
With all of this evidence, why would anyone allow their child to continue drinking milk. There are so many alternatives, such as raw goat's yogurt and raw goat milk. Almond milk would be the best non dairy choice as rice milk is very sweet. For smoothies, most do choose almond milk. For cooking, almond milk is usually used.
Photo courtesy of Photobucket Guillermo4.